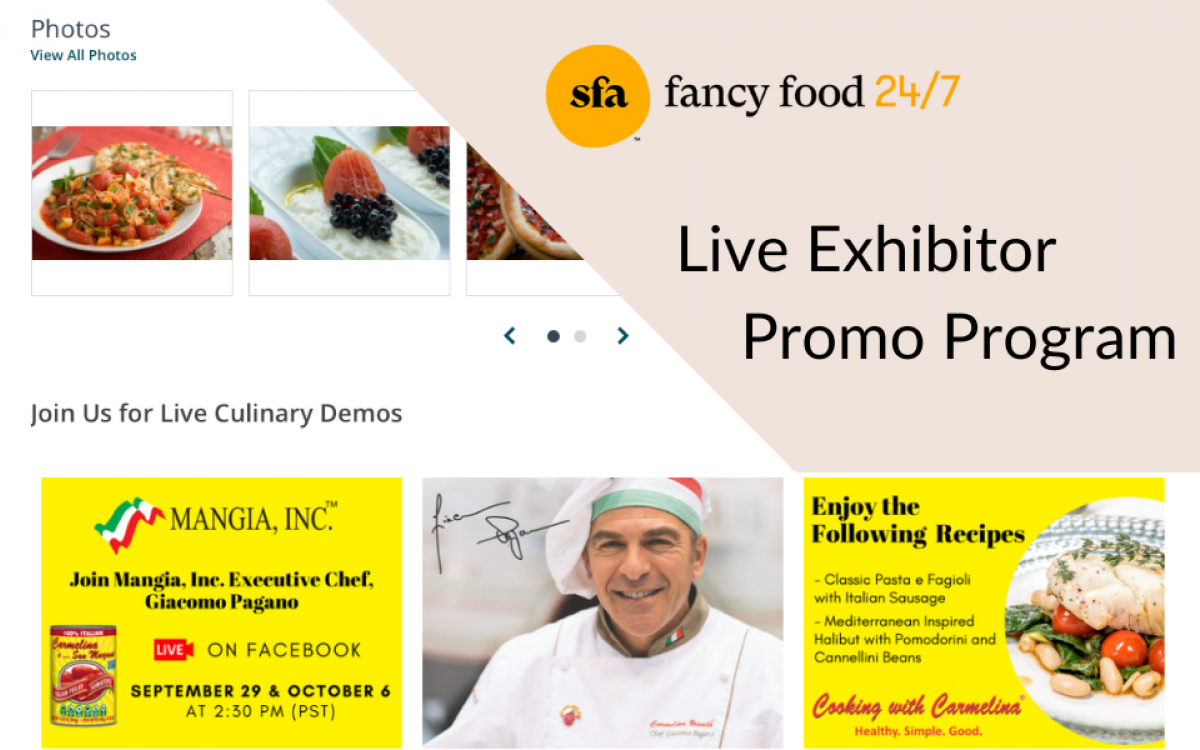 10/25/2021
Learn From: The SFA's Live Exhibitor Promo Program
---
- Digital Success Series -
DIGITAL BEST PRACTICES FROM ORGANIZERS JUST LIKE YOU
If you're like most trade show organizers, launching and operating a robust digital experience is an evolving, new frontier. Whether you're launching or running digital or hybrid events, or a year-round experience, our "Digital Success Series" provides tips and takeaways from organizers doing interesting things for their communities.
---
After running two successful Specialty Food LIVE! digital events with great customer feedback, the Specialty Food Association (SFA) realized it was time to build on their success and launch Fancy Food 24/7, a year round digital community and marketplace to bring together artisans, purveyors, importers, and others involved in the specialty food trade.
The fast-growing year-round experience has been very successful in engaging their community with great content, product discovery and networking. As part of this, SFA has been running a program called the Live Exhibitor Promo program, a set of promoted live streaming events delivered and hosted by exhibitors. Exhibitors use content widgets on their company profiles to livestream events they host themselves, including cooking shows or product demos highlighting their key products. Buyers can attend the events virtually and enjoy being entertained, while engaging with the supplier and learning more about the brand, product, and more. As part of the program, the SFA helps to promote the various exhibitor-hosted events through several methods, including: 
Creating a custom event calendar page to present the upcoming live exhibitor events. This page is also featured in the the top nav menu and the curated Discover page to drive exposure
Announcing upcoming exhibitor streams via daily email round ups
Promoting each live stream event via editorial posts on the community feed and in-platform broadcast emails to the buyers 
---
"The key strength [of Balluun] was the ability to power the discoverability element... making it as easy as possible for our buyers to find exactly what they were looking for." - Leo Squatrito, VP Events & Member Development, Specialty Food Association (SFA)
---
What Does This Mean for Organizers Like You?
Enabling the SFA and other organizers to set up and run the Live Exhibitor Promo Program means more exposure and community engagement between buyers and sellers. Their dynamic and meaningful engagement helps to drive leads, conversions, and business.
Consider some of the following benefits realized by the Specialty Food Association (SFA):
1. Provide Exhibitors with New and Dynamic Ways to interact with Buyers
Bring buyers and exhibitors closer through live online experiences. Provide a unique channel for exhibitors to deliver information, value, and entertainment to buyers throughout the year and for those buyers who are not able to attend a physical event.
2. Leverage Buyers' Existing Online Engagement 
Provide exhibitors with an established digital space. Help exhibitors to engage buyers directly with editorial content, custom calendars, community feeds, messaging, and others, all within the platform.
3. Expand Exhibitors' Reach 
In addition to promoting live stream events via in-platform community elements, leverage email roundups, social media promotions, and other external channels to broaden exhibitors' reach and exposure.
---
Tell Us About Your Goals
If you're new to digital platforms, the experts at Balluun are here to help. We are strategic advisors, sharing winning ideas and practices for modern digital environments. Contact us and an experienced advisor will reach out to you directly. To experience our digital platform now, request a personalized demo.