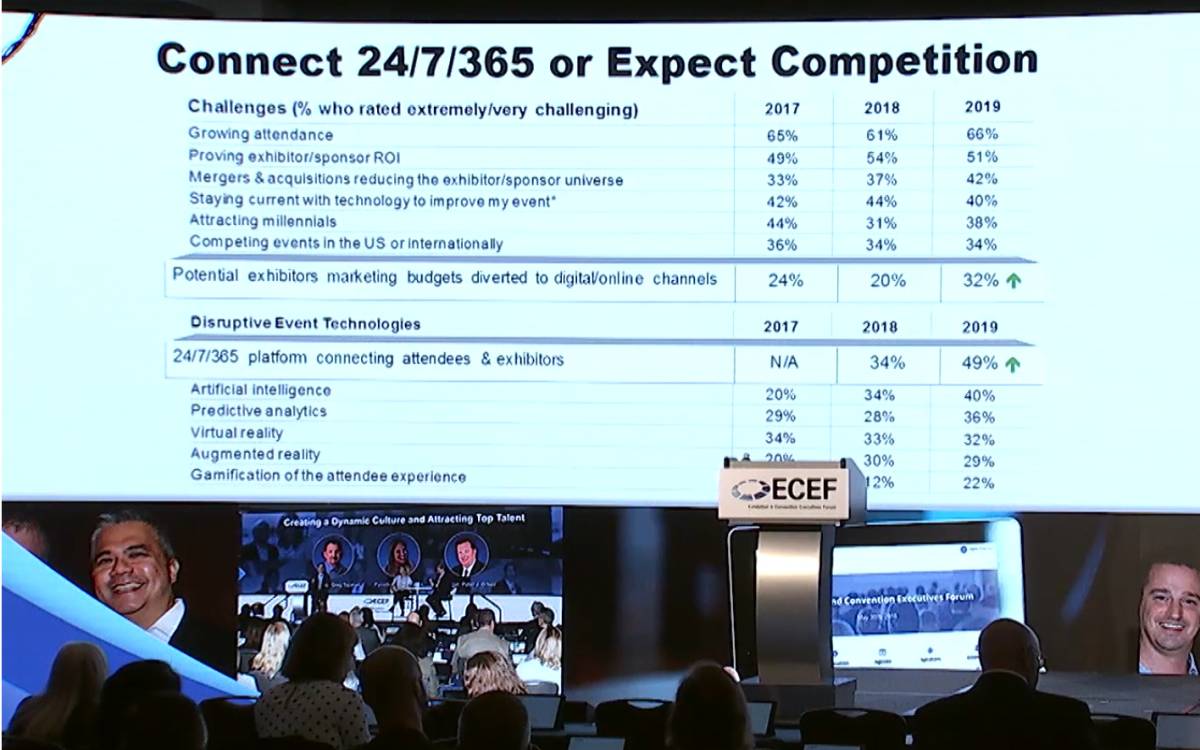 07/19/2019
Connect 24/7/365 or Expect Competition
In the most recent ECEF (Exhibition and Convention Executives Forum) Pulse survey, conducted annually by Freeman and Lippman Connects, 24/7/365 platforms are considered to be the most disruptive new technology by event industry executives.

The adoption of digital platforms is also trending up every year. 42% of survey respondents currently include or plan to include a digital extension of their event, comparing to 34% in 2015 and 39% in 2017.   
Top reasons for adding or considering a digital extension includes:
Increasing year-round engagement with audience
Strengthen event's brand
Other reasons include:
Offer event's content to prospects that can't attend the physical event
Increase the number of attendees at future physical events
New revenue from virtual booths and sponsorships
Increase booth sales at future physical events
Among the reasons, the most noteworthy shifts comparing to last year are audience engagement (UP from 33% to 74%), and new revenue (DOWN from 44% to 18%). It implies that the industry is driven by the strategic imperative to adopt year-round digital platform to keep their audience engaged, but is not expecting such a platform to be a major new revenue generator yet, or is deliberately putting revenue from the new platform at a lower priority.
The key take-away from this report is that adopting a digital extension platform should be on top of mind for trade show executives. Connect 24/7/365 or expect competition! 
The full-length Pulse survey report is only available to ECEF attendees. You can check out this summary video published by Lippman: 5 Key Data Points in 5 Minutes: ECEF Pulse 2019 Summary.