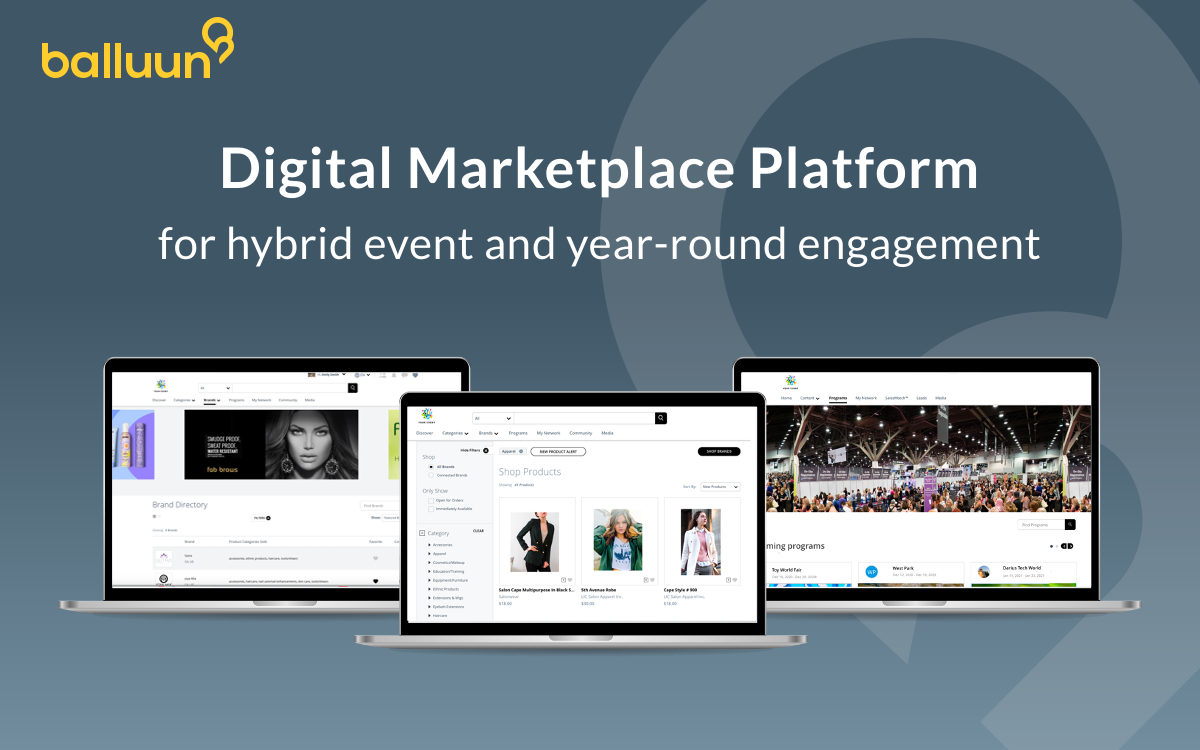 03/05/2021
Digital Strategy for Event Organizers
When the COVID crisis hit a year ago, trade show organizers were thrust into creating "virtual" alternatives for their live events. As a leading partner to show organizers, Balluun has evolved its solution portfolio to help organizers quickly launch their digital marketplace experience and accelerate their digital transformation efforts. We'd like to share with you three main needs expressed by our show organizer partners:
1. Hybrid Event Solution
While everyone looks forward to the return of live events, leading show organizers now recognize that offering a virtual experience is a must-have to complement their live event, as it offers unique benefits to participants and organizers.
FlashEX™ is a "flash" exhibition solution for organizers to quickly launch an online event as a companion to, or in place of a live event. Rich with engagement tools, product and supplier discovery and educational content, FlashEX can be seamlessly transitioned into, or integrated with a year-round platform to engage audiences 24/7/365.
2. Year-round Audience Engagement Platform
Before 2020, 24/7/365 platforms connecting attendees and exhibitors were considered "nice-to-have". The COVID crisis has greatly accelerated the adoption of such platforms and many show operators have shifted to seeing these platforms as a way to deliver value year round, beyond discrete events.
Our flagship solution ENGAGE365™ brings full B2B networking, product discovery, matchmaking, and e-Commerce to cover the end-to-end needs of B2B buyers and sellers. It offers unmatched breadth, depth and flexibility in technology and can accommodate even the most ambitious digital strategy. 
A digital platform that drives audience engagement and e-commerce activities (if desired) year-round can open up many new revenue opportunities for the organizer. All of our solution packages offer flexible monetization options including flat participation fees, subscriptions, advertising/sponsorships, paid educational content, and software licensing.
We are excited about the innovation happening in our industry. To learn more about hybrid event, year-round audience engagement, and new revenue opportunities offered by our solutions, please contact us for a live demo.