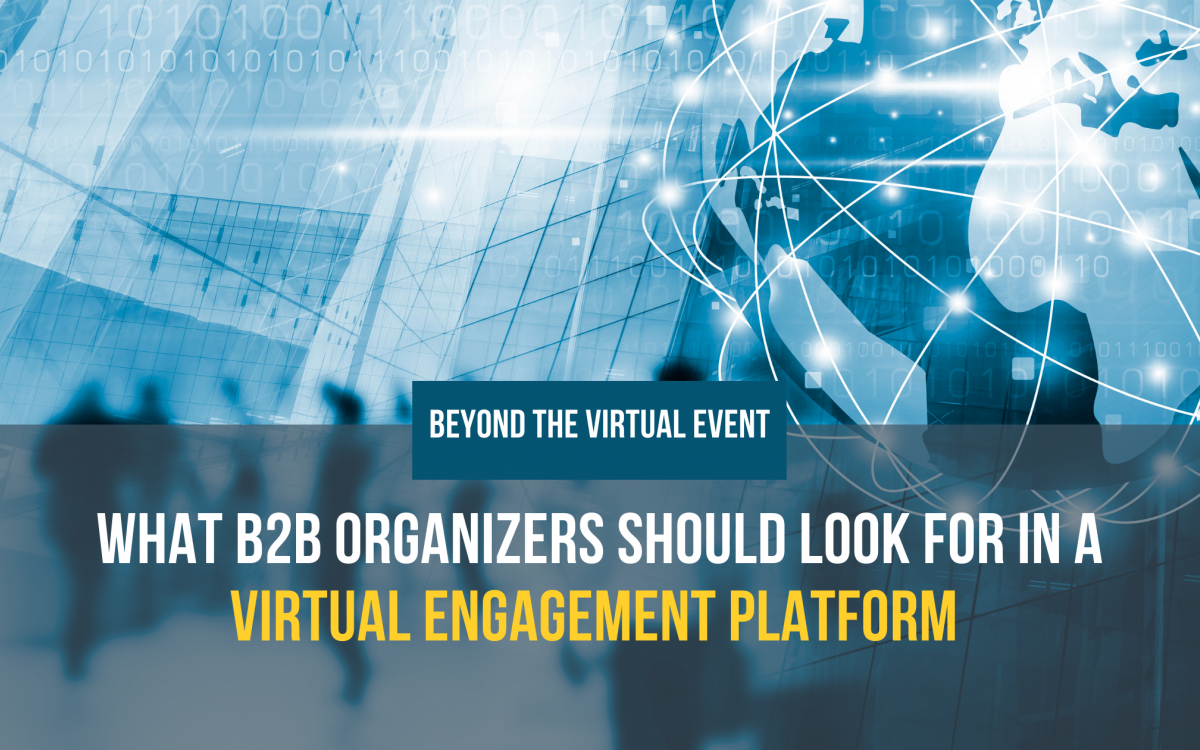 08/16/2021
Beyond the Virtual Event: What B2B Organizers Should Look for in a Virtual Engagement Platform
Slowly but surely, physical events are returning to their prominence in B2B industries. But the virtual alternatives that characterized 2020 and 2021 have taught trade show, conference, and other organizers valuable lessons about what opportunities virtual engagement can provide.
Now, Forrester hypothesizes those experiences "will permanently change how physical events are planned and executed for both in-person and remote attendees." Countless technology vendors providing virtual event or digital marketplace solutions are emerging as a result.
As the space becomes more crowded and fragmented, it is becoming more challenging for organizers to pick the right vendor for their virtual and hybrid event needs. Beyond individual virtual events, organizers need better, purpose-built options for long-term virtual engagement as well. It falls to those organizers to consider how the platforms they choose can contribute to their strategies for long-term virtual engagement.
From Virtual Event to 365 Virtual Engagement
One of the key takeaways from organizers' pandemic-era virtual event experiences is that virtual events should do less to emulate live events; they should seize upon the advantages inherent in digital environments instead. "Online conference platforms—and the events they host—[must] move away from approximating in-person events and actually [deliver] a better online experience," describes Forbes.
Part of this approach involves extending virtual engagement in these environments beyond an event timeframe alone. An Exhibition and Convention Executives Forum (ECEF) survey of event industry executives revealed that "24/7/365 platforms" will be "the most disruptive new technology": "The best type of platform should enable trade show organizers... to support their virtual and hybrid events and their 365 year-round, always on engagement strategies," the Virtual Event Institute reports.
By their nature, digital environments are not limited by time and space like physical events. What's more, they can provide unique advantages in terms of how exhibitors, sellers, and attendees interact with one another, build connections, and discover new products and resources. With this in mind, organizers might benefit most from a platform with which they could transition seamlessly from a single virtual event to a year-round digital environment for B2B engagement.
The Five Qualities of Leading Virtual Engagement Platforms
It's time for organizers to look at the big picture in terms of the online experiences they provide. We've identified five categories of capabilities organizers should look for as they choose a partner for both virtual events and year-round learning and engagement. Consider how these capabilities might help you connect your event community members in meaningful, business-driving interactions.
1. Scalability Based on Business Needs
As mentioned, the platform should allow you to seamlessly extend from a single virtual event to year-round environment for virtual engagement. But the platform should allow you to easily scale down as needed as well, ensuring your investment is always practical per your business needs.
Similarly, the platform should easily integrate with your physical event agenda, no matter the degree to which you would like the two to coordinate. In this way, your digital environment can "align with the operational structure of the physical event [offering] business continuity and flexibility for the organizer as they work to create a fluid experience," as the Virtual Event Institute describes.
2. Configurability & Flexibility
The platform must allow for personalization, both in terms of branding and the capabilities you choose to utilize. Organizers should be able to leverage insights from their event community and apply those findings to the platform, optimizing the means by which exhibitors, sellers, and attendees discover, learn, and interact with one another.
3.  Deeper Experiences through Variety and Depth of Features
Countless emerging virtual event technologies lack variety and depth in their features. Too often these features fall flat with audience members or exhibitors; they often sound good "on paper" to the organizer but don't deliver real value or interest in practice.
More mature platforms can quickly launch a robust virtual or hybrid experience no matter the industries you serve. They can support useful "digital first" capabilities such as analytics or relationship management tools for attendees as well.  Forbes describes these features as providing "on-target connections much as Netflix or Amazon make recommendations," where interactions are focused on value rather than simulating a live event.
4. Quicker Time to Market
While some platforms boast a wealth of optional features, they are often difficult to learn and configure. Some platforms leave organizers waiting for necessary modifications and improvements at times when they should be learning the platform and preparing their content as well.
Meanwhile, industry-leading platforms support easy-to-learn capabilities, purpose-built or adaptable for your industry and ready to configure, right out of the box. Organizers can start branding and on-boarding their teams and participants in a matter of days, and still tailor experiences to their unique needs. In the best cases, these platforms seamlessly integrate with existing CRM and other enterprise tools without heavy lifting in terms of their integration.
5. High Quality Services & Support
After some initial training, platform providers often fail organizers through their lack of ongoing support. Instead, they offer up pre-packaged educational content and engage in only a transactional or passive relationship with organizers.
On the other hand, establishing a true partnership—one characterized by on-demand support and industry-oriented advice—can become the major contributor to organizers' success with their virtual investment. Those providers offer a human touch for onboarding, strategic consulting, and launching virtual events, and guarantee ongoing support for your year-round network experience.
Extend the Value for Your Event Community with a 365 Solution
No matter their industry, organizers must embrace a virtual or hybrid engagement strategy to retain their relevance. The key to success lies in identifying those features and opportunities that work best in each environment, and securing a relationship with a platform provider that supports them.
Balluun is a mature cloud-based platform that offers rich tools for engagement and discovery among your exhibitors, sellers, and attendees. We provide a highly configurable environment, allowing you to launch your own uniquely branded experience then seamlessly extend its B2B networking capabilities to a year-round product discovery, matchmaking, and eCommerce virtual environment.
Discover how a subscription model, configurable to your unique needs, can work for you and your audience. Contact our experienced BD team and schedule a free demo today.