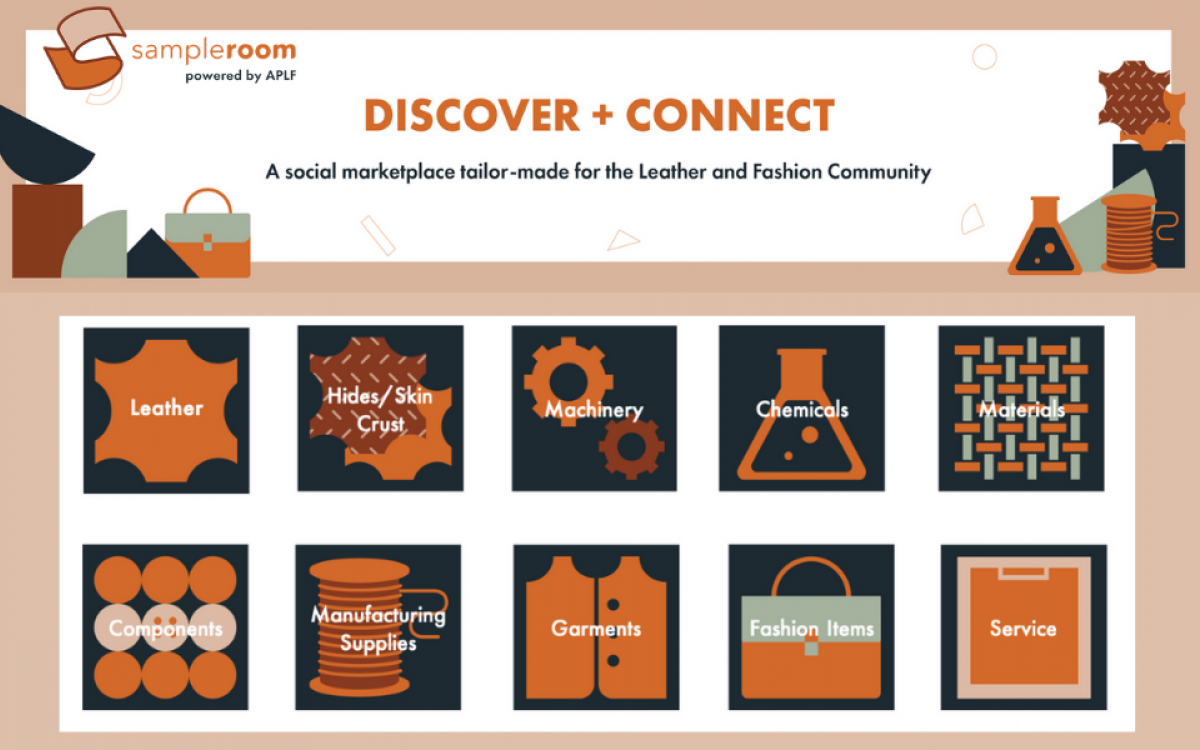 05/04/2021
Balluun, Inc. powers sampleroom.online, Informa Market's 365 digital marketplace for the leather and fashion community
Balluun, the leading All-in-One Marketplace and Events platform provider and a preferred technology partner for Informa Markets, will power sampleroom.online, a year-round digital marketplace for the global leather and fashion community. The new experience will be launched and operated by the team at Informa Market's APLF and serves as the place for the industry to virtually source new products and vendors, build and sustain important business relationships, and learn from the latest industry content and educators.
"We are honored and proud to partner with Informa for the launch of the sampleroom experience" said Deepak Gupta, CEO of Balluun Inc. "Informa and APLF is the leader in bringing people together to discover, learn, and generate new business and the launch of sampleroom is an important step towards expanding their role to help do this year-round.  We are excited to power this experience."
Eddie Fung, project leader for the sampleroom experience, commented, "With the changing times, it was important for us to help our customers extend their sourcing and business activities year-round. It was critical for us to find both a platform and team that would support our unique needs as we built for the future.  We are impressed with the flexibility and design of their platform and are excited to grow our business with them."
sampleroom is one of a number of hybrid and year-round experiences Informa has launched using the Balluun platform. This comes as part of a partnership forged between the two organizations, in which Balluun was selected as a preferred technology partner for Informa's global trade show portfolio. The Balluun platform passed Informa's rigorous technical due-diligence was well as a number of important criteria: a broad range of digital experience functionality, built-in revenue generators, advanced configurability and secure data protocols.
About Balluun
Balluun is the leading All-In-One digital platform for event organizers to create virtual, hybrid and year-round digital experiences for their attendees, exhibitors and other key stakeholders. Leading organizers use our highly configurable platform to launch and operate their own uniquely branded digital experience tailored to their industry, audiences and business objectives.
Balluun's modular platform integrates a dynamic product-driven marketplace, e-Commerce capabilities, community and engagement, event programming, AI powered matchmaking, and powerful analytics – helping operators to create a rich and engaging experience that drives product and seller discovery, peer-to-peer engagement and more business for stakeholders.
About APLF Limited (www.aplf.com)
APLF Ltd is a joint venture between SIC Group and Informa Markets. For over two decades, Hong Kong-based APLF Ltd has been providing the global leather and fashion industries with its most important meeting and trading place. APLF organizes APLF-Leather, Materials+, Fashion Access, Cashmere World in Hong Kong and All China Leather Exhibition in Shanghai, China. It also manages the new social platform, www.sampleroom.online.
About Informa Markets (www.informamarkets.com)
Informa Markets creates platforms for industries and specialist markets to trade, innovate and grow. We provide marketplace participants around the globe with opportunities to engage, experience and do business through face-to-face exhibitions, targeted digital services and actionable data solutions. We connect buyers and sellers across more than a dozen global verticals, including Pharmaceuticals, Food, Medical Technology and Infrastructure. As the world's leading market-making company, we bring a diverse range of specialist markets to life, unlocking opportunities and helping them to thrive 365 days of the year. For more information, please visit www.informamarkets.com.