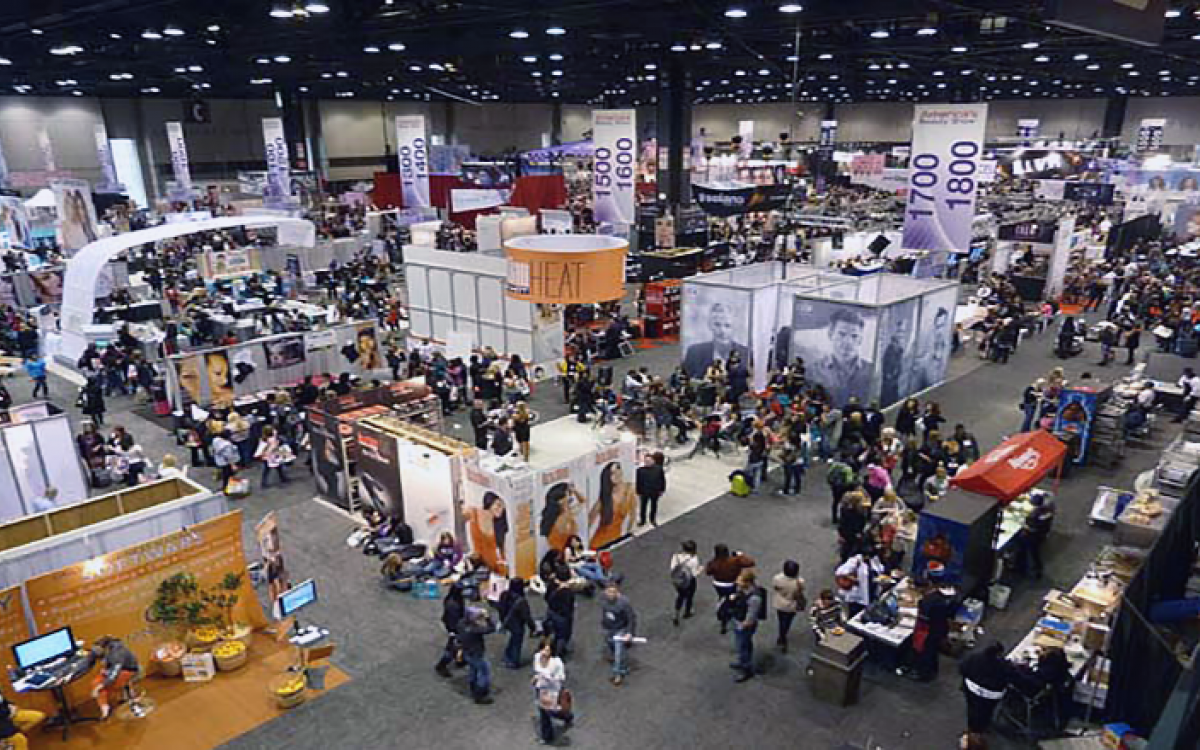 By : admin_inox - 22.06.2017
6 Ways to Strengthen Your Trade Show Brand (without doing anything different)
79% of B2B companies rank events as important to their business and most spend an average of 5-8 weeks preparing to attend1so it is no surprise that at the heart of most industry's you will find a trade show that is highly anticipated and key to the growth of businesses and members of that industry. 
Guided by a mission statement that will likely have words like "commerce", "growth" "marketplace" or "community", trade associations and independent trade shows organizers work tirelessly to meet the needs of the industry they serve.  The ones that do this well build strong, respected and trusted brands with a clear promise within the industry.
So what are the aspects of this promise?  What do members, attendees and exhibitors expect when they participate?  How does a trade show deliver on its brand promise and what can they do to exceed their customer's expectations? We've broken this down into 6 key areas.
---
1. Community
If a "company" is just a group of people with a shared business goal then a "community" is just a group of companies within a shared industry.   Walk the aisles at any successful trade show, feel the buzz, watch the interactions, hear the chatter and it's clear that bringing an industry together under one roof even if only for 3-4 days, creates a dynamic and engaged "community". 
The show organizers that really deliver on their promise understand that it takes years of effort to build a face-to-face, offline community and that online generic open social networks are ineffective for professionals due to irrelevant content, untrusted members, and a lack of like-minded peers.  To take advantage of our social media driven world, innovative organizers are extending their community online by launching year-round private industry specific social networks to further engage their industry and add customer value. 
2. Lead Generation
Generating leads for exhibitors is the fundamental value proposition for any trade show organizer.  After all, the number of leads generated (and eventually sales closed) is a key metric that exhibitors use to calculate ROI.  70% of CMO's believe that trade show organizers should be very accountable for audience quality and quantity.2
More attendees mean more leads, happier customers and stronger show brands.  Unfortunately, just getting qualified buyers to the venue doesn't guarantee they will connect with the exhibitors who want to see them.  There's still a good deal of chance involved.  Progressive show organizers know that leaving this to chance isn't good enough and have developed various types of "hosted buyer programs" that try to hand deliver leads to their customers.   Knowing lead generation is part of their core business, Show Organizers are increasingly leveraging various data-driven, digital "matchmaking" solutions to augment their face-to-face lead gen efforts.
3. New Product Discovery
What's new?  What's trending? What's hot?  Traditionally to get the answers to these questions buyers had to go to trade shows where exhibitors' would launch their new lines. Great show organizers created showcases, awards programs, media events, etc. to help their exhibitors promote their new products.  Although this remains a big part of the appeal of a trade show shorter product development and sales cycles, increased competition, and shrinking distribution channels have forced exhibitors to launch new products much more frequently in most industries.  67% of the typical B2B buyer's journey is now done digitally.3
Bottom line, they simply can't wait for an annual event.  As a response, trade show operators are exploring ways to keep their brand involved and remain an important part of the new product launch process between events.
4. Brand Awareness
83% of exhibitors agreed that "Building, expanding brand awareness" is a high-priority marketing-related objective for trade shows.3 The best trade shows provide exhibitors a forum to deliver an impression and a highly-targeted message to the most important 20 or 30,000 people in any industry.  Unfortunately, promotional and brand-building opportunities that are both highly-targeted and have good reach within an industry are difficult to find (and measure) before and after the event. 
Trade show brands who are interested in serving their customers better (and growing their revenue) are continuously looking for new ways to leverage their relationships and data to create quality sponsorship and brand-building programs year round.
5. Content Sharing
In today's networked economy, relationships between buyers and sellers are established before transactions take place.  Sellers who use content to build trust have longer lasting and more profitable relationships with their customers.  9 out of 10 B2B buyers say online content has a moderate to major effect on their purchasing decisions.3   Exhibitors who create and distribute content that educates, informs and assists their customers have a distinct competitive advantage as they are seen as "partners" not simply "vendors".  
Trade shows have numerous opportunities for buyers and sellers to share content.  Workshops, breakout sessions and speaking engagements all give sellers a chance to build relationships with their target customers.  Content sharing doesn't have to end when the show closes.  To serve their industry's better, the best trade show brands recognize that they have to facilitate the relationships that start at their event by providing a platform for on-going conversation and content sharing between events.
6. Lead / Order Managment 
The strongest trades show brands are focused on understanding and solving their customer pain points.   Not just getting them into the show but addressing their needs before, during and after the event, true end-to-end customer lifecycle management.   Organizers were not surprised to see a recent report by SalesForce that cited 80% of trade show exhibitors don't follow up with their show leads5
Organizers know that taking orders at the show, following up and managing them post show is a specific challenge for their exhibitors, particularly for SMB's who likely don't have large sales organizations or sophisticated lead management and order processing solutions.  They know that integrating at-show and post-show sales processes is a significant area of opportunity and are exploring various ways to deliver additional customer value.
Watch how the Balluun platform adds value for LiveLoveSpa exhibitors
Balluun is the only integrated social commerce solution for serving industry specific marketplaces.  
Discover & Connect with new buyers, suppliers and products, connect and engage in conversations to nurture and strengthen their business relationships.
Develop & Expand their business, reach and network by promoting their brands and products to a qualified and engaged audience.
Buy & Sell their products by inviting buyers to view the latest collections and allow them to build their wish lists across multiple suppliers.
Unlock the full potential of your Trade Show
contact Ryan McGann